On September 23-25, 1987 a scientific-practical conference "The Experience of Restructuring the Work of the Trade Union Organizations of the Universities" was held at Moscow University.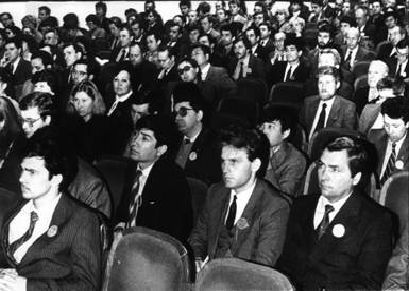 It was attended by about 140 chairmen of trade unions, trade unions of students, joint trade union committees of 66 of the 68 universities that existed at the time, chairmen of trade union committees of leading universities in Moscow. The conference was opened by the report of the First Vice-Rector of Moscow University, Professor V.A. Sadovnichy.
The sections were headed by M.Ya. Melnikov, I.I. Melnikov, I.B. Kotlobovsky, E.N. Moshchelkov and T.M. Karayev.
In order to ensure a quick response to the problems facing the trade union organizations of universities, the recommendations adopted at the conference contained a decision on the advisability of creating a Council of chairmen of trade unions of the country's universities and organizing regular Council meetings to exchange trade union experience.
Conference participants laid a wreath at the Lenin Mausoleum., they laid a memorial alley of Persian lilac on the territory of Moscow State University, and each university planted its own bush. Later, a memorial plaque was installed at the alley by the United Trade Union Committee of Moscow State University. The trade union of Moscow State University annually holds a spring clean-up day to clean the territory and improve the trade union alley.